About Uniform Guide
Since 1994, UNIFORM GUIDE has been the leading "unofficial authority" on the proper wear of U.S. Military Uniforms. Over a Million books have been sold, just in military base exchanges around the World.. Thousands more in Mortuaries, Sewing Shops, Movie-Maker wardrobe departments, off-base stores like Ranger Joes, and internet orders. One of our products even appeared in the movie "Taking Chance" starring Kevin Bacon. Stephen Spielberg's wardrobe department ordered from us for various movies, as have many other studios. Dale Dye, a highly respected Hollywood "military advisor", sent us an unsolicited letter of thanks for such a valuable tool.
---
NEW FOR 2022 – SPACE FORCE
"Uniform Guide" is based on official military regulations of each of the 5 Services. The secret of success of this particular book is it's ability to distill hundreds of pages of "Official Regulations" to around 60-80 pages (depending on Service) of just "Need to Know" information on a day to day basis. Detailed, extraneous information can be found in the "official regulation", if one wants to look through hundreds of pages from a borrowed Regulation, or internet search.
Additional advantages of this product over a recently introduced competitor include:
1) "UNIFORM GUIDE" costs less. 2) "UNIFORM GUIDE" comes with it's own ruler. 3) is in more Military Exchanges than any other book of it's type. 4) Pocket sized. 5) easy to understand with picture or drawing on one side, and written instructions on the other side
Products of "Uniform Guide", besides the actual books include: Full Color Ribbon Charts for each service, Ribbon Booklet with ALL Services represented, and Insignia Chart, covering all services.
---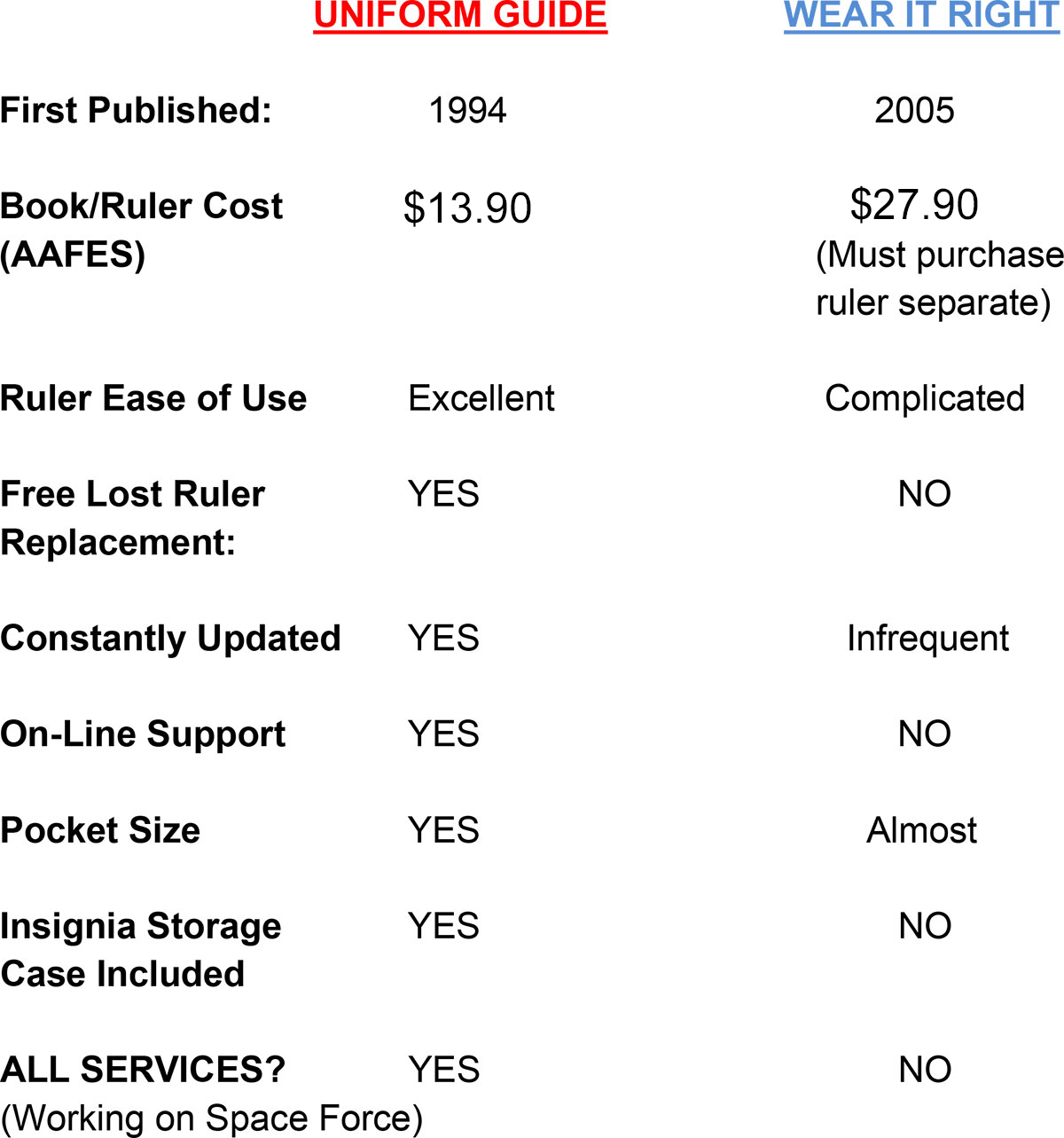 "UNIFORM GUIDE" FOUNDER
(WALTER G RINGLER)
1961:  ENLISTED IN ARMY (COMBAT ENGINEER) (GERMANY) PVT-E1  MULTIPLE "SOLDIER OF THE MONTH" AWARDS
PROMOTED TO SGT (E5) , ATTENDED OFFICER CANDIDATE SCHOOL.
COMMISSIONED A 2ND LIEUTENANT IN ARTILLERY.
VARIOUS ASSIGNMENTS IN CONUS, VIETNAM, KOREA, GERMANY AND ITALY.  SERVED AS ARTILLERY UNIT COMMANDER, VIETNAM HELICOPTER PILOT, (SHOT DOWN A COUPLE OF TIMES), FLIGHT INSTRUCTOR, LIAISON OFFICER TO THE ITALIAN ARMY, NUCLEAR WEAPONS OFFICER, AND COMMAND AND GENERAL STAFF COLLEGE INSTRUCTOR.  SERVED AS BOTH REGULAR ARMY AND RESERVES.
OVER 40 MEDALS/RIBBONS INCLUDING MERITORIOUS SERVICE MEDAL, DISTINQUISHED FLYING CROSS, BRONZE STARS AND AIR MEDALS WITH "V' DEVICE. RETIRED AS LT. COLONEL IN 2001
PUBLISHED FIRST "UNIFORM GUIDE" IN 1994
(OVER 1,000,000 SOLD!!!)